DIRECTOR'S NOTE
Shopping Mall is an account of Horrendous Mass Killing at a Shopping Mall in small time America. The idea is to highlight situations that could lead a man to commit such horrific crime. The characters and their actions are loosely based on traits and events surrounding many mass shooters in America.
Mass Killing is an everyday phenomena in the United States and guns have been used by psychopath criminals to annihilate commoners irrespective of race, religion and socioeconomic background. Though, mental condition of the killer is often used as a refuge, only 3% of these killers have been found to suffer from serious mental illness. The film examines struggles of three different individuals from distinct backgrounds.
It is mind boggling that how Mass Shootings in America has become part of everyday life. To a point that society has accepted it as a part of American culture. It is also surprising that despite it being such a important topic, except for few documentaries, no fiction work is attempted on the subject.
It is my aim to deal with this important subject and at the same time make an engaging dramatic crime suspense thriller.
ABOUT HIM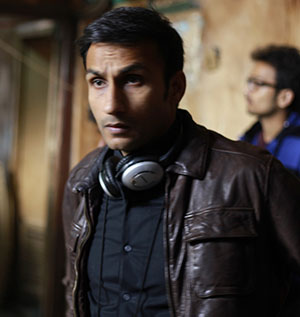 Filmmaker and Writer, Raj Amit Kumar made his first feature film titled UNFREEDOM in 2015 with renowned actors such as BAFTA nominee Victor Banerjee and Life of Pi's AdilHussain. Unfreedomwas banned by Indian government and the film not only received notoriety but also was critical acclaimed. The film was released in North America.
Raj Amit Kumar finished his Ph.D. Coursework in Cinema and Media studies at Southern Illinois University (SIUC) in 2009. That same year, he received the Faculty Screenwriting Award at University of film and Video Association (UFVA). Prior to attending SIUC, Kumar graduated with Masters of Arts in Cinema and Media Studies from City University of New York (CUNY) in 2006 where he received the George CustenMemorial Award for Academic Excellence.
Kumar is also a Speaker and Teacher. He has taught cinema theory and history at both his alma maters, CUNY and SIUC. His writings and research papers have been published and presented at various conferences.
Back in the 1950s, two researchers in Albany, New York, worked to develop an antimicrobial drug from a substance produced by a soil-based fungus
prednisone order online
yeasts grow unchecked into large colonies and take over, in a condition called dysbiosis
antibiotics buy online
many experts feel weight gain, and not disease prevention, is the real reason antibiotics are so widely used
order clomid no prescription
this results in a syndrome called leaky gut. yeasts are not the only possible cause of this syndrome
buy online neurontin
however, if bacteria were the only organisms that antibiotics killed, much of this book would be unnecessary
buying cytotec online uk
i don,t know if larger doses are in fact administered to people
buy azithromycin online
in fact, i con-tend that poisons that kill small organisms in small doses
where to buy gabapentin
the drugs are used to kill bacteria. certainly, many people have benefited from using them